What are the Elements of a Quality Management System?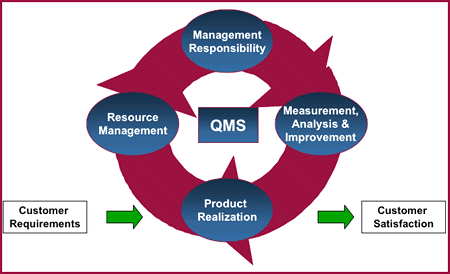 ISO standards are documented rules and guidelines for implementing a quality system into your company. Specific technical specifications and/or other specific criteria may also be included depending on the standard you select.
The ISO 9001 standard is a model of a quality system, describing the processes and resources required for registration of a company's quality system. This ISO System diagram shows the management system and processes that are part of the ISO quality management standard. A brief summary of the key requirements is detailed below.
QMS - Document processes necessary to ensure product or service is of high quality and conforms to customer requirements.
Management Responsibility - Provide a vision. Show commitment. Focus on the customer. Define policy. Keep everyone informed.
Resource Management - Assign the right person to the job. Create and maintain positive workspace.
Product Realization - Clearly understand customer, product, legal and design requirements. Ensure specifications are followed. Check your suppliers.
Measurement, Analysis & Improvement - Identify current and potential problems. Monitor and measure customer satisfaction. Perform internal audits. Fix problems.
Why Implement a Quality Management System?