ISO Modules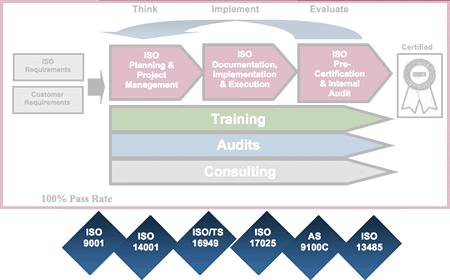 Overman & Associates specializes in the following ISO modules:
General : ISO 9001
ISO 9001 defines the rules and guidelines for implementing a quality management system into organizations of any size or description. The standard includes process-oriented quality management standards that have a continuous improvement element. Strong emphasis is given to customer satisfaction. ISO 9001 registered companies can give their customer important assurances about the quality of their product and/or service.
All requirements of this International Standard are applicable to all different types of organizations.
Environmental : ISO 14001
ISO 14001 defines Environmental Management best practices for global industries. The standard is structured like the ISO 9001 standard. ISO 14001 gives Management the tools to control environmental aspects, improve environmental performance and comply with regulatory standards. The standards apply uniformly to organizations of any size or description.
Automotive : IATF 16949
IATF 16949 defines global quality standards for the automotive supply chain. The main focus of these standards is on Customer Oriented Processes and how each key process relates to the company strategy.
Depending on your place in the automotive supply chain or the current standard to which you subscribe, IATF 16949 compliance dates vary:
For DaimlerChrysler's Tier 1 suppliers worldwide, the transition from QS-9000 to IATF 16949 must be complete by July 1, 2004
For the Big Three's Tier 1 suppliers worldwide, the transition from QS-9000 to IATF 16949 must be complete by December 14, 2006
For other OEMs, evidence suggests that the transition deadline most likely will be in accordance with a 2006 deadline
As more and more automotive OEM's require third party registration from their suppliers, choosing a consultant that can provide both training and consulting makes good business sense. It is necessary to implement efficient and effective processes to make your QMS understandable and achievable.
Calibration and Testing labs : ISO 17025
ISO 17025 contains specific calibration and testing lab requirements in addition to the ISO 9001 quality standards. The central focus of these standards is on calculation of measurement uncertainty as well as assuring quality and repeatability of measurement results. ISO 17025 applies to independent and in-house labs.
Medical Devices EN ISO 13485
Though it is tailored to the industry's quality system expectations and regulatory requirements, an organization does not need to be actively manufacturing medical devices or their components to seek certification to this standard.

While it remains a stand-alone document, ISO 13485 is generally harmonized with ISO 9001. A principal difference, however, is that ISO 9001 requires the organization to demonstrate continual improvement, whereas ISO 13485 requires only that the certified organization demonstrate the quality system is effectively implemented and maintained. Additionally, the ISO 9001 requirements regarding customer satisfaction are absent from the medical device standard.[3]
Aerospace Industry AS9100C
This standard is designed to be used by firms in the aviation, space, and defense industries and can be applied throughout the supply chain. It is intended for use by organizations that design, develop, and produce aviation, space, and defense products. It is also intended for use by organizations that provide post-delivery support. This includes those that provide maintenance, materials, or spare parts for their own products.