Customer Satisfaction and Organizational Effectiveness Surveys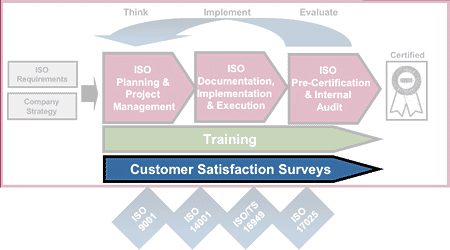 Customer Satisfaction and ISO 9001:2008
One of the primary goals of ISO 9001:2008 is to give customers confidence in the ability of its suppliers to meet their needs, resulting in satisfied customers. This goal is best met by following the ISO 9001:2008 guidance on monitoring customer satisfaction.
ISO 9001:2008 makes it clear that your organization must understand and be capable of satisfying customer needs and expectations. To demonstrate compliance, your organization is required to have solutions in place that effectively measure customers' attitudes and satisfaction levels.
Customer Satisfaction and IATF 16949
IATF 16949, the ISO standard for the automotive industry, goes a step beyond the ISO 9001:2008 customer satisfaction requirements and incorporates the following into the standard:
Customer satisfaction procedures are be documented and followed
Measurements are closely monitored
Outcomes are improved and customer expectations are met
Internal audits are structured around items as nonconformances and customer complaints
Essentially, IATF 16949 requires organizations to pro-actively seek customer feedback, measure it and continually improve its processes to increase customer satisfaction. To successfully meet IATF 16949's requirements, your company must implement a Customer Satisfaction process as a key driver of your company's strategy. If the strategy correctly drives the organization, the organization will meet customer expectations.
Organizational Effectiveness Surveys
Organizational Effectiveness Surveys provide an additional tool for companies that want to understand the harder to measure areas of their quality systems. A well designed survey can provide information about how employees experience the following dimensions of your quality system.
Communication
Resouces Planning
Customer Focus
Company Leadership
Team Work
Continous Improvement
Safety