Training Courses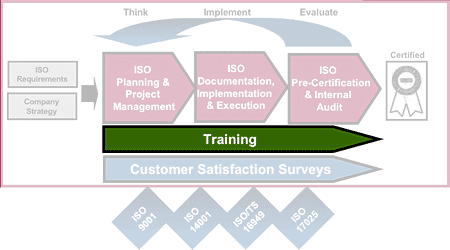 O&A Training is:
results based
interactive
hands-on
effective
Overman & Associates training courses are offered at O&A Headquarters in Dayton, Ohio or at your location for immediate application of skills learned.
O&A offers two types of training courses, public and customized in-house. Public courses at our headquarters in Dayton, Ohio. Customized in-house sessions led by experienced, professional ISO trainers are held at your location. Public courses are beneficial since they encourage the exchange of ideas between the participating quality professionals while learning the ISO modules. Alternatively, in-house sessions are best for companies requiring courses tailored to their particular needs. Contact us for information about what course is best for you!
Training Materials
The training courses are designed to walk you through the ISO standard's concepts and requirements. The training materials are reflective of this approach and also include information gained from the experiences of our certified ISO Auditors and Consultants.
O&A training classes are listed below.
Please review the registration details and our current schedule before registering. In-house, customized courses are available for each course. Contact O&A for more information.
To register, download a Hardcopy Registration Form (PDF) and submit the completed form to O&A.
Overview Training (Click for general course outline)
ISO 9001: Quality Management System
IATF 16949 Automotive Specification
ISO 14001 Environmental Management System
SAE/AS 9100C: Aerospace
SAE/AS9120 Aerospace
ISO 17025 Calibration
ISO 13485 Medical Device Compliance
Internal Auditing Training (Click for general course outline)
ISO 9001: Quality Management System
IATF 16949 Automotive Specification
ISO 14001 Environmental Management System
SAE/AS 9100C: Aerospace
SAE/AS9120 Aerospace
ISO 17025 Calibration
ISO 13485 Medical Device Compliance
Standards Training (Click for general course outline)
ISO 9001: Quality Management System
IATF 16949 Automotive Specification
ISO 14001 Environmental Management System
SAE/AS 9100C:2009 Aerospace
SAE/AS9120 Aerospace
ISO 17025 Calibration
ISO 13485 Medical Device Compliance
Additional Courses