Overman & Associates is a specialized ISO consulting company. Our staff can offer your company proven tools and methods through ISO Consultation, Training and Customer Satisfaction Surveys to help you pursue opportunities that will add increased value to your business and delight your customer.
Vision
Always exceeding customer's expectations.
Mission
We provide documentation, training, auditing, consulting, implementation and maintenance of Quality Management Systems.
Quality Policy
We will meet the requirements of our clients and the ISO 9001-2008 Standard. We will continuously strive to improve the effectiveness of our quality management system.
Your Resource for Total Quality Solutions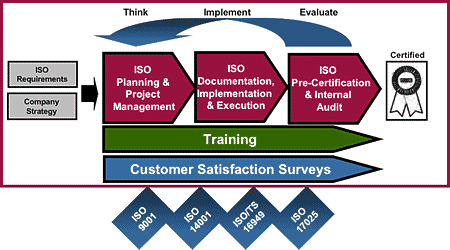 O&A clients seeking ISO certification received 100% PASS RATE!
O&A consulting services include assistance in all phases of ISO certification: From ISO preparation to ISO documentation, implementation and execution and finally to ISO maintenance. Examples of O&A services are:
| | |
| --- | --- |
| ISO Planning & Project Management | ISO Pre-certification/Pre-Assessment |
| | Internal Audit, Maintenance Audits |
| Document Control System Development | Non-conforming Documents Correction |
| ISO Implementation & Execution Assistance | Continuous Improvement Implementation |
| Calibration Processes Analysis | Strategic Quality Plan Development |
| | |
| --- | --- |
| | Internal Auditor Training |
| Customer Requirements Training | |
| | |
Supplier Audit

O&A offers the services of experienced auditors to perform supplier audits (subcontractor audits).
| | |
| --- | --- |
| ISO, Customer Requirements Audits | |
| To Qualify Contract Manufacturers | Product and Process Audits |
Outsourcing Contract Quality-Your Temporary Quality Solution

O&A offers services for your temporary staffing needs:
| | |
| --- | --- |
| | Implement APQP for PPAP submission |
| | Experience with Problem Solving/ Containment |
| Top Down Management/Analysis | |
Customer Satisfaction Surveys and Organizational Effectiveness Surveys
One of the main goals of ISO is to enhance customer satisfaction. O&A has designed a cost-effective, proven method of obtaining and monitoring external and internal customer perception to ensure implementation of ISO in your company meets customer requirements.
Organizational Effectiveness Surveys measure areas of your company that are not easy to measure. Since employees are a key part of all organizations, information obtained about how about training, safety, communications, and other elements that effect performance can be gathered by conducting an Organizational Effectiveness Survey. O&A can provide you with either a standard or customized survey to enhance your performance.
Internal & External Customer Satisfaction Surveys
.